Versatile Applications for a 120" Ceiling Fan
A 120" ceiling fan is ideal for any large facility where airflow is a concern. The following are some examples of where HVLS fans this size may be found.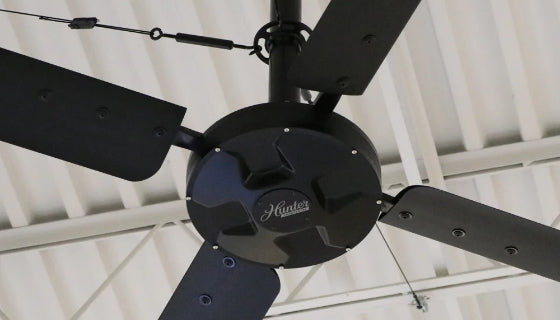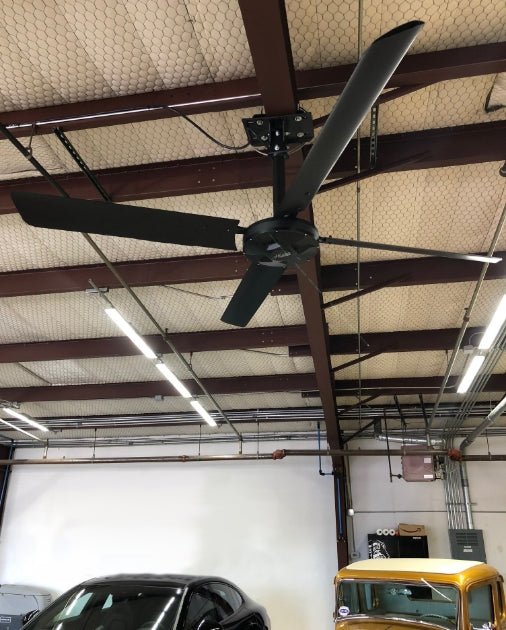 Warehouses: HVLS (High-Volume, Low-Speed) ceiling fans are must-haves in warehouses, where they efficiently circulate and distribute air throughout the large space, ensuring a comfortable working environment for employees and helping to regulate temperature and humidity levels.
Manufacturing Facilities: Heat and humidity are generated due to machinery and processes. By installing a 10-foot HVLS ceiling fan, these spaces benefit from improved airflow, preventing stagnant air and promoting a more productive and comfortable environment for workers.
Fitness/Recreation Facilities: A 120" ceiling fan effectively cools down athletes and spectators. The fan's gentle breeze enhances air circulation, reducing stuffiness and providing relief during intense physical activities.
Airports/Transportation Hubs: Large numbers of people access these facilities, increasing heat and humidity. Installing 120" ceiling fans helps create a more comfortable environment for passengers, reducing the reliance on air conditioning and maintaining optimal air quality.
Agricultural Facilities: Barns and livestock shelters benefit from the airflow generated by an HVLS ceiling fan. It helps dissipate heat, reduce moisture, and improve the overall well-being of animals.
Restaurants: In commercial kitchens and dining areas, a 10-foot ceiling fan helps with air circulation, reducing hot spots and providing a more comfortable space for chefs, staff and customers.
Retail Spaces: These areas can become stuffy and uncomfortable, especially during peak shopping hours. Installing a 10-foot ceiling fan helps maintain a pleasant atmosphere, keeping customers and employees cool, reducing the reliance on air conditioning systems and potentially lowering energy costs.
Educational Institutions: By installing HVLS ceiling fans in classrooms, libraries, gymnasiums and other common areas, schools and universities experience better airflow, enhancing the learning environment and improving concentration levels.
How an HVLS 120" Ceiling Fan Works
At the heart of an HVLS (High Volume, Low Speed) 120" ceiling fan lies a perfect balance between efficiency and performance. This engineering marvel combines colossal size with a meticulously crafted design to deliver unparalleled airflow and cooling capabilities. The secret to its success lies in its low-speed rotation.
Unlike traditional high-speed fans, the HVLS 120-inch ceiling fan moves slowly, but its large size allows it to move a tremendous amount of air effortlessly. By gently circulating a large volume of air at a low velocity, it creates a refreshing breeze throughout the entire space, effectively cooling the area and providing consistent comfort. The fan's blades, carefully designed for maximum aerodynamic efficiency, work in harmony to minimize energy consumption while maximizing airflow, making it an environmentally friendly and cost-effective solution.
Whether you're in a commercial or industrial setting, the HVLS 10-foot ceiling fan proves that size, efficiency, and performance can coexist harmoniously to create the ultimate cooling experience. The Hunter ECO and XP are the two models that are available with a 120-inch radius. You may choose from other sizes as well.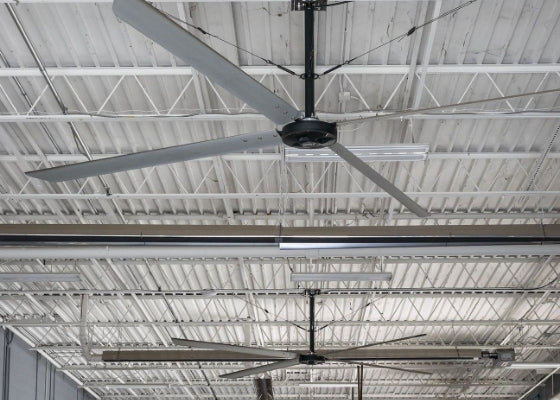 Why Our HVLS 120-Inch Ceiling Fan Is So Popular
There's more behind our 120-inch ceiling fan than meets the eye. Sure, you're getting a high-quality, innovative product that does a great job. But when you choose a Hunter fan, you get a whole lot more:
Affordable Temperature Control Solutions: We've engineered our HVLS ceiling fans to provide cost-efficient temperature control solutions tailored to your needs. Like all our HVLS fans, the 120" ceiling fan is affordably priced and meticulously crafted to ensure your facility's safety, comfort, and productivity.
Unmatched Durability: The reinforced strength and lightweight efficiency of our fan blades ensure your fan provides you with many years of reliable service.
Seamless Installation: We've taken every step to ensure a hassle-free setup by including as many pre-installed parts as possible, saving you valuable time and effort. For even greater convenience, we offer installation services through our Factory Authorized Installer program.
Best in Class Customer Service: From the time you place your order for a 10-foot ceiling fan to the day of delivery to installation and maintenance, Hunter is here when you need us. Please get in touch with any questions or concerns you may have: 1-844-591-3267.
Unrivaled Warranty Coverage: We're proud to back our ECO, XP, and Titan HVLS fans with an exceptional Limited Lifetime Warranty, a testament to our confidence in the quality of our products. For detailed terms and conditions, we invite you to learn more.
Frequently Asked Questions About Our 120-Inch Ceiling Fan
The following are answers to some of the questions we've received about our 120-inch ceiling fan. Please let us know if you have additional questions or concerns.
+
Is Your 120-inch Ceiling Fan Noisy?
+
Can a 10-Foot Ceiling Fan Be Installed in a Residential Space?
+
Can the Speed of a 120" Ceiling Fan Be Adjusted?
Start Your Hunter Industrial Fan Journey
At Hunter Industrial We Know Air. Our Industrial And Commercial Fans Are Carefully Crafted To Meet The Needs Of Your Detailed And Delicate Industry. Our Experts Are Ready To Work With You To Design A Perfect Airflow Plan To Enhance Your Space. Fill Out The Form To Connect With Us Today.
Like Talking To Real People?
So do we. Reach a Hunter Industrial sales rep
1-844-592-3267 (Fans)
Take Control of Airflow on a Grand Scale With Hunter's 120-Inch Ceiling Fan
With their impressive size, advanced engineering, and commitment to performance, Hunter's 120-inch fans are designed to revolutionize airflow in large commercial and industrial spaces. Experience the unmatched power, efficiency, and reliability that Hunter Industrial & Commercial is renowned for. Whether you want to enhance airflow in a warehouse, gymnasium, or any other large area, the 120-inch ceiling fan will revolutionize your concept of cooling, making sweltering days a thing of the past. Find your 10-foot ceiling fan today!